Introduction and commentary by John A. Baden
Bozeman, the Gallatin Valley and the surrounding area offer many high quality jobs.  Some involve analyzing, arranging, and moving material stuff.  The stuff includes people and the furniture of the world.  Others work with electrons and symbols. 
Most of those who create good new jobs are entrepreneurs.  Artists and entrepreneurs share a characteristic, they create benefits.  They do so by moving stuff to a higher value in an innovative way.  Here is an example.
Kirsten Kainz is a local artist.  She earned a degree from Southern Illinois University's School of Art and Design. Her specialty is welding art, here is her web site: http://www.kirstenkainz.net/.
I like to celebrate Ramona's and my wedding anniversaries by surprising her with a sculpture.   Most are by Kirsten.  The subjects are animals native to our ranch.  The material is junk iron and steel formally used in agriculture and logging.  They represent memories of my work in the woods and Ramona's and my work in ag.
Scrap iron is worth about $100 per ton--unless an artist with Kirsten's talent transforms it.  Here is an example of about $150 worth of junk converted to art.  I don't know what this piece is worth on the market but surely in the low five figures.  Perhaps more.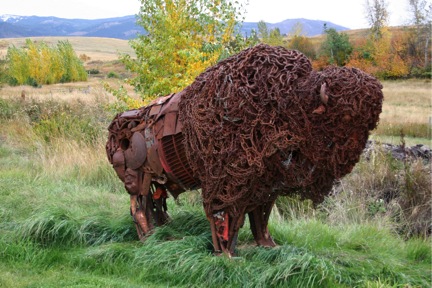 An artist usually works alone.  Successful entrepreneurs hire people, sometimes many.  Most create good jobs. Well paid positions that produce high quality products generate not only income but also self-respect.  We associate such jobs with agriculture, construction, and the skilled trades and professions--from accounting through teaching to zoo managing.
We explored some of this work last summer during FREE's policy salons. These discussion and exploration salons are actually informal, oft outdoors, seminars. They included locals and people from far away, several from DC and New York. All are highly accomplished and interested in explaining how the world works.
One salon focused on entrepreneurship and human ecology. We host them at our ranch and nearby places. When at our ranch they see Kirsten's and other artists' work.
In addition to reading, discussing and dining, we fly fish, shoot targets, and enjoy outdoors.  In July we also visited three examples of entrepreneurial success.  All use CAD, Computer Aided Design, and CNC, Computer Numerical Control, machines in innovating and improving traditional products. They are Gold Plug, Big Timber Works, and Dark Horse Customs. 
Consider the drain plugs made by GoldPlug a few miles from our home.
Why rely on just any old drain plug, when you
can have one that saves your engine from
the wear and tear of metal particles? 
GoldPlug began in 2001, and today is available for 100,000+ automobiles
& motorcycles, loved by our customers and their engines.
Alas, full-time hands on work is an increasingly scarce resource.  The scarcity of such work usually generates personal, social, economic and political problems.   "(E)ven temporary declines in demand  (for labor) can have permanent effects on unemployment, as workers who lose jobs are unable to sell their labor due to a loss of skills or for other reasons..."  Lawrence Summers, "Unemployment" in Concise Encyclopedia of Economics
Not all highly paid work generates a high degree of self respect. Material stuff, the furniture of the world, is easy to understand, appreciate, and evaluate. In contrast, In Tom Wolfe's Bonfire of the Vanities, bond trader Sherman McCoy couldn't explain the value of his job to his young daughter.  About that time, currency trader Andy Krieger quit his job when unable to tell his eight-year-old son's what good his job did.  (Actually, currency and bond traders perform an important function by arbitraging across time and buffering the costs of shortage and excess.  This function is subtle and complex, really quite difficult to explain.)
One of the participants in our July policy salon was Kevin Williamson of National Review, America's leading conservative magazine.  Here are long quotes from his account of visiting entrepreneurial ventures in our valley.
NATIONAL REVIEW
OCTOBER 20, 2014 ISSUE
We Build This:  American manufacturing is not dead — it is thriving 
By Kevin D. Williamson
FREE Policy Salon, Enterprise Ranch
Gallatin Gateway, Montana
Site visit to Gold Plug, Big Timber Works, and Dark Horse Customs
'When you're a carpenter making a beautiful chest of drawers, you're not going to use a piece of plywood on the back, even though it faces the wall and nobody will ever see it. You'll know it's there, so you're going to use a beautiful piece of wood on the back." That's one of many quotes from famous builders cited by Montana's Big Timberworks, and the builder in this case was an especially famous one: Steve Jobs. And Merle Adams sounds more than a little like the Apple visionary when he describes his business: "We don't sell things — we sell ideas."
To call Big Timberworks a woodworking shop would be like calling Apple a computer company. Yes, it is, but it is a great deal more. They'll make you a desk — a bespoke, one-of-a-kind item, possibly made from wood recovered from the 1907 Pierce-Arrow factory in Buffalo or a grain elevator in Saskatchewan, fastened with old railroad spikes from Montana. The firm recently advertised its acquisition of a load of wood from the old Trojan condom factory in Trenton, N.J. ("a nice selection of large timbers," indeed). They'll outfit your home with shelves, closets, pantries, staircases, and furniture unlike anything you can buy anywhere — or they will build the whole house, if you like."
And Big Timberworks builds truly beautiful barns. As I write, they are building one on a ranch just over a mile east of our place. Fortunately, a family from California bought this decrepit, falling down place. They are using local firms to resurrect and greatly improve the site. Big Timberworks is building the barn.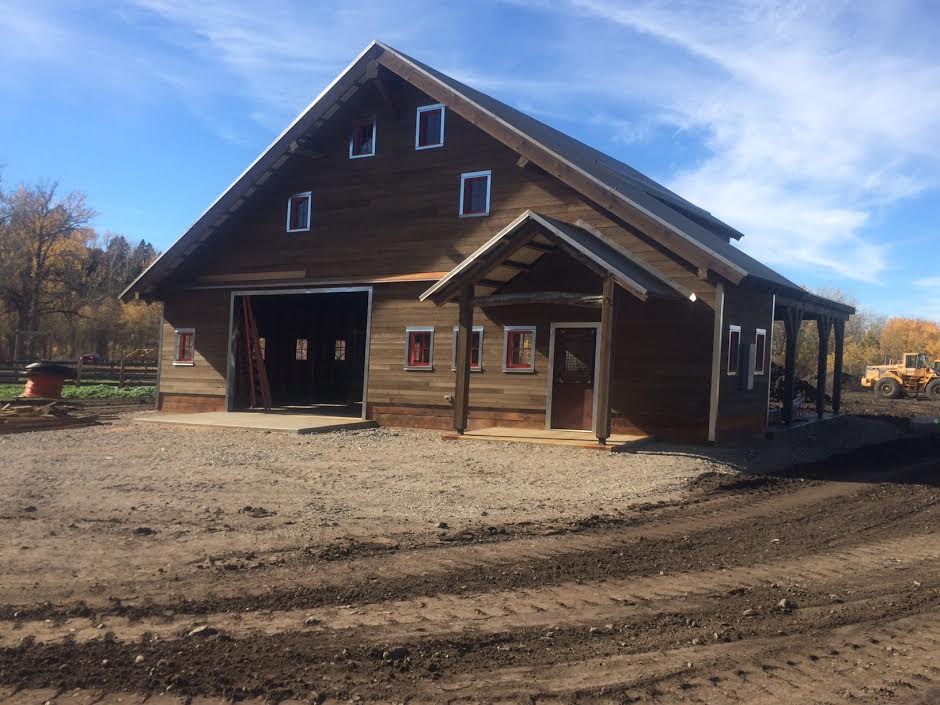 E.J. Engler, an extremely creative Gateway architect, is restoring and modernizing the old farmhouse. The classic wooden granary is being rebuilt on a new foundation. A neighboring family farms the place and it has a new center-pivot to improve irrigation and increase production of hay and grain. Another local firm is building a trout fishery just north of the buildings. Back now to Williamson's National Review article.
"As Adams shows a group of visitors around the facility, the scale of the operation becomes apparent. "The way we work, I can go out to the shop and see how they're building something and say 'Yea' or 'Nay' on the spot. I don't like being dependent on other people. I like doing it the way I want it done…"
"My generation, from the Seventies, there was still some necessity to invent, and I tried to find cheap, cool things. Sometimes, I see kids in their 20s, and there's not much desire to make things — they're enraptured by technology. But around here, in Montana, there's a lot of people who make cool stuff." And it's more than woodworking: Across town, another company builds $100,000 custom rock-crawlers — not bolting aftermarket parts onto Jeep Wranglers, but fabricating components on laser-cutting tables. As with media, the tools of manufacturing have been democratized. But the tools require training, skill, and, most important, curiosity."
The company Williamson mentions is another of my favorites, Dark Horse Customs. It is an amazingly creative place. They not only build rock crawlers, but also special vehicles for action movies. They even designed and build a gorgeous $100K wood fired pizza and catering truck. It combines a Cummins diesel, a 1953 GMC cab, a Ford F-550 4x4 chassis, all operating through a custom build drive train.
I know most of the workers at Dark Horse. They seem happy and are clearly talented. I'm often in there for Dark Horse also works on our ranch and personal vehicles. Some seem like big kids working in Santa's toy shop. They love their challenges.
Again back to Williamson's discussion of Big Timberworks…
"When Adams was getting started, he says, he'd regularly see "wild-eyed" young men show up at his shop with the desire to build something. Now, it's harder for him to find young people. "I'd like to get three or four more young ones. I like to try to keep a mix, and some of my guys have been with me almost 30 years. I'm wondering if there's still that desire to experiment, that passion."
Big Timberworks is sort of like one of those Sonoma farm-to-table restaurants, with everything from the sawmill to the architect to the timber-framers in one shop, with work from design and engineering to fine joinery executed by a single worker-owned cooperative. It is hard work, but there is a certain romance to it. Adams says that of his current projects, the one that excites him most is a barn he is building, which will be used for special events. "It's built in a traditional manner, and it's very, very rustic. It'll be a place where people are married, people party, people gather together. They wouldn't know me from Adam, but the work of my hands, my design, might create a memory for them."
He shows off some cool pieces, desks and dining tables that might be bound for a Montana cabin or a Tribeca loft, and tells stories about the oddball places from which his favorite pieces of wood have been reclaimed. But he keeps a careful eye on the sawmill, too.
"I'm a wild-eyed dreamer," he says. "But I'm also a realist."
... Without even getting into the household-name manufacturers, the breadth and depth of what Americans make and do is spectacular, and it is not rendered less so merely because industries such as finance and services have made spectacular advances of their own in the past several generations. Of all the executives, technicians, and craftsmen I speak with, it may be the carpenter-turned-actor who best puts his finger on our current challenge — a culture that treats those who work with their hands as being somehow less than those who work with symbols and software.
We are, in a sense, victims of Bastiat's "seen and unseen." The failures are what jump out at us: Our automotive industry isn't what it used to be, and competitors overseas have displaced American firms in fields that once were points of pride, from consumer electronics to steel. But to lament the fact that the American economy of 2014 doesn't look like the American economy of 1963 is backward-looking and deeply un-American — and it blinds us to the success stories all around us. That not only gives us an inaccurate picture of the economy, but it prevents us from learning and applying the lessons offered by the best American makers.
As Ratzenberger argues, it would be an excellent thing if our education system spent less time trying to place people into third- and fourth-tier academic programs to swell the ranks of marginally employed poli-sci and Victorian-lit graduates, and invested more in those who make and build and do; if we valued the beautiful and the useful as much as we do the clever; if we reconnected with the great American tinkering tradition that brought the world such innovations as the airplane and the personal computer. More than any government program, regulatory reform, or targeted tax cut, it is reinvigorating that culture, and the entrepreneurial vocation that goes along with it, that will keep Americans building the next big thing, the insanely great thing, the beautiful and the useful thing. The politicians always get it wrong: We did build that. We do. We will."